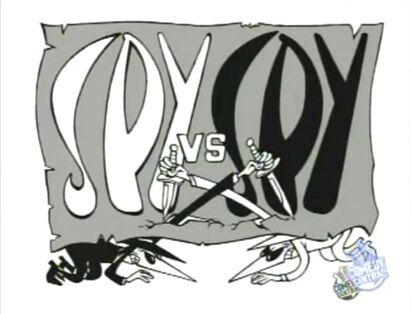 Spy vs Spy is the segment animation from Mad TV was a grand tradition of Tom and Jerry with the Joke and Dagger. This is the first segment of Spy vs Spy would do a rerun. There are two successful reboot Do the Dew ran in 2004 until early 2005 and Mad Cartoon Network ran in September 6, 2010 - December 2, 2013.
Original Airdate:
October 14, 1995 - May 17, 1997
Original Episodes:
49-51 Approx
Starring Cast: Bryan Callen (debatable)
Original Channel: Comedy Central, FOX, Mad TV
Previous: Spy vs Spy TV Special
Next: The Mountain Dew
Characters
Edit
Episodes
Edit
Spy Vs Spy-Plunger/Tank Bomb
Edit
Spy Vs Spy-Spaghetti Door/Spy Vs Spy-Fleas
Edit
Spy Vs Spy-Macaroni Factory/Spy Vs Spy-Lab Fly
Edit
Spy Vs Spy-Magnet Nail, Spy Vs Spy-Kill Command
Edit
Spy Vs Spy-Rock Drop
Edit
Spy Vs Spy-Hair Dryer
Edit
Spy Vs Spy-Dream Tank/Bomb Assembly
Edit
Spy Vs Spy-Slam Dunk
Edit
Spy Vs Spy-Monkey Business
Edit
Spy Vs Spy-Projector, Spy Vs Spy-Love Robot, Spy Vs Spy-Fail Safe
Edit
Spy Vs Spy-Sidewalk Switch
Edit
Black - White
Season 2
Edit
Spy vs Spy - 3 little pigs
202 Spy Vs. Spy-Phone Gun
203 Spy Vs. Spy-Cats Cradle
204 Spy Vs. Spy - High Bed
205 Spy Vs. Spy-Cactus
206 Spy Vs Spy-Headphones
207 Spy Vs Spy - Defection
208 Spy Vs Spy-Mirror
209 Spy Vs Spy-Karate
210 Spy Vs Spy-TNT
211 Spy Vs Spy-Pool Table
212 Spy Vs Spy-Training Camp
213 Spy Vs. Spy-Microphone
214 Spy Vs Spy-Spaghetti
215 Spy Vs Spy-Bullet Proof
216 Spy Vs. Spy-Burning House
217 Spy vs. Spy-Gallows
218 Spy Vs. Spy-Air Attack
219 Spy Vs. Spy-Ants
220 Spy Vs. Spy-Brick Wall
221 Spy Vs. Spy-Guillotine
222 Spy Vs. Spy-Teatime
Black - White
It maybe originally going to be aired in the 80s.
This is the first cartoon to be brought back.
This is the first Black and White Spy vs Spy cartoon.
This is the first time with two different intros.
Grey Spy does not appear in any of the cartoons episodes
They possibly being voiced by Bryan Callen up until he left in 1997.